Ubuntu is back with a brand new release! Ubuntu 20.04 LTS, Focal Fossa, has pounced on the Linux world bringing a slew of new features and improvements to enjoy. In this article, I'm going to show you whats new in this latest version of Ubuntu 20.04 and highlight the most exciting aspects of this release.
Ubuntu is arguably the most popular Linux-based operating system on the market so the anticipation of this latest release is palpable. Ubuntu 20.04 LTS comes to us just six months (6) after the release of 19.10, two years (2) after the previous LTS version of Ubuntu 18.04 and it doesn't disappoint.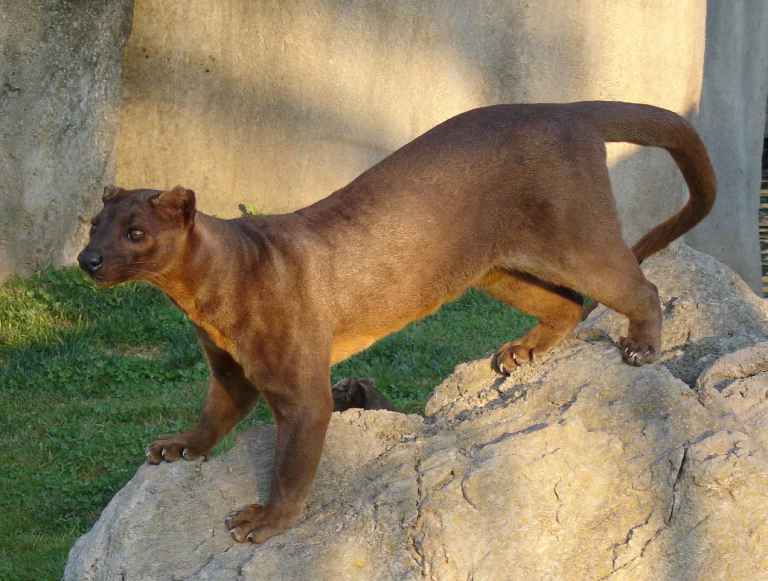 Ubuntu 20.04 is codenamed "Focal Fossa" following the traditional naming convention of Ubuntu where they choose an adjective and an animal to reference the releases. Ubuntu 20.04 LTS is not that much to type but is a significant amount to say so the codenames offer a simple and concise way to refer to the latest release. Focal Fossa is named after the cat-like animal endemic to Madagascar.
The LTS in Ubuntu 20.04 LTS stands for Long Term Support which means that this version of Ubuntu will be supported for 5 Years, until 2025. Business and Enterprise customers can opt-in to get ESM support, extended security maintenance, for up to 10 years as a part of the Ubuntu Advantage service. This additional support is a part of a premium service offered by Canonical.
Features of Ubuntu 20.04
The Long Term Support aspect of this release also means that the developers generally play it safe in regards to new features by only including features that Ubuntu developers can commit to maintain for full five year period. That's not to say that Ubuntu 20.04 isn't worth it by any stretch! Ubuntu 20.04 LTS offers usability improvements, user-interface refinements and some much needed updates throughout the system.
For example, Ubuntu 20.04 updates the Linux kernel to that latest LTS version of the kernel with Linux 5.4 for better hardware support among other features. Focal Fossa comes with live kernel updates meaning you won't need to reboot your system to install kernel updates thanks to integration with Livepatch. Performance is a significant focus for this release so the default kernel and initramfs have been changed to use the lz4 compression algorithm to deliver much faster boot times and GameMode from Feral Interactive is included as well for a boost while gaming.

WireGuard is included with this release bringing the new, simplified, and wildly popular virtual private network (VPN) tool to Ubuntu. Canonical didn't stop there with WireGuard because in addition to support 20.04, they will also be backporting to Ubuntu 18.04 LTS so users of the previous LTS release can benefit as well. Jason A. Donenfeld, the creator of WireGuard recently said that "including WireGuard by default in all recent versions of Ubuntu means that users will finally have a great out-of-the-box secure tunnel on Ubuntu."
Speaking of WireGuard, be sure to check out the latest episode (177) of the Destination Linux Network's Ask Noah Show where Noah interviews Jason Donenfeld to learn more about this popular VPN project.
Ubuntu 20.04 received improved ZFS support, which offers native encryption with hardware acceleration enabled, pool TRIM, device removal, sequential scrub / resilver, and a new dialog in the partitioning screen.
Ubuntu 20.04 LTS also comes with a new graphical boot splash that also integrates with the system BIOS logo. This means that, once you've installed or upgraded to Focal Fossa, the next time you boot your computer you'll see a manufacturer logo alongside Ubuntu's logo during the boot process.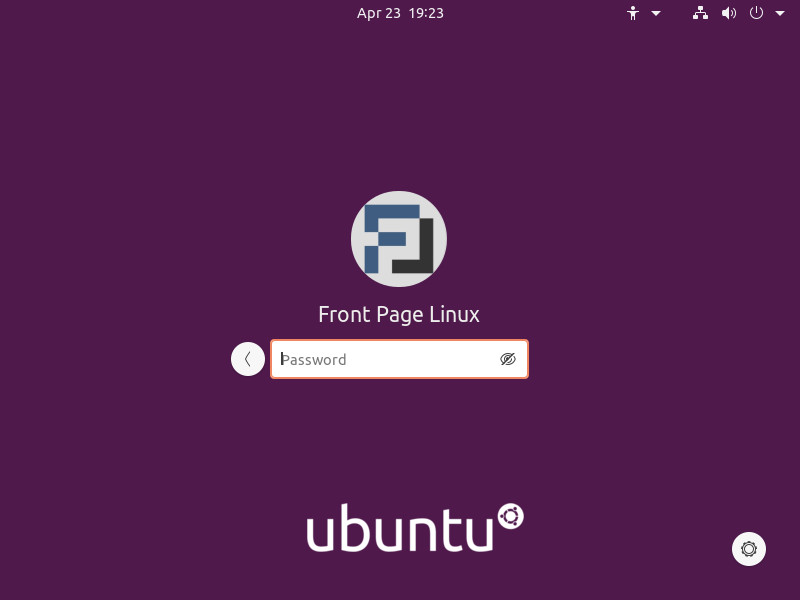 The changes to the Login Screen are quite evident as they have moved the location of the User and Password fields from a left alignment to the now centered orientation. This change gives is a more polished feel and focuses your attention on the most important pieces of the screen. The User Session Switcher is still easily accessible though it has been relocated to the bottom right corner of the screen.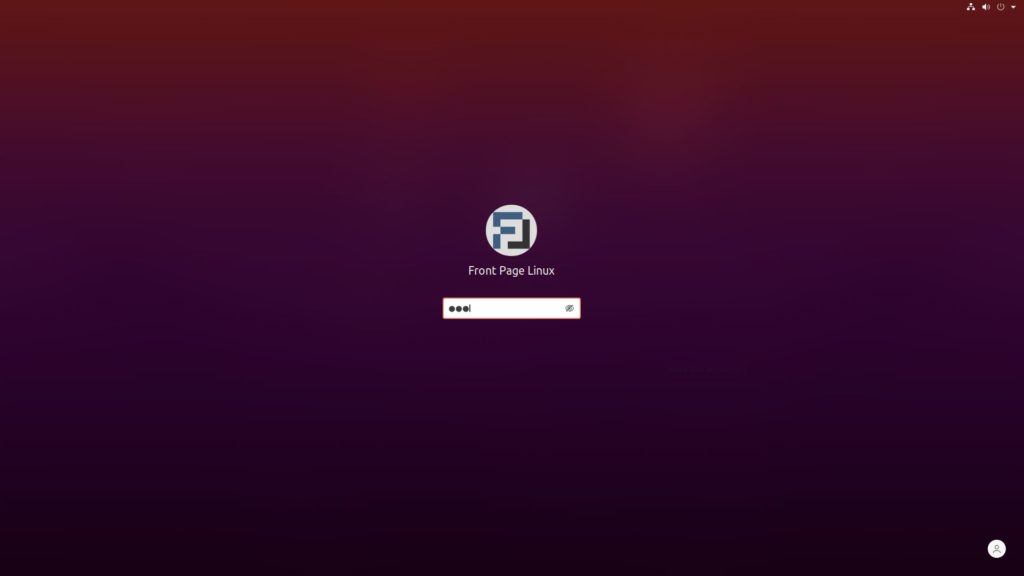 In addition to the updated Login Screen, this release comes with a much nicer Lock Screen. The new lock screen is easier to use thanks to the removal of the awkward "slide up" to reveal the password field curtain that GNOME used for many years. The appearance of the lock screen was also taken into consideration with it getting a nice blur effect which enhances of the overall polish of it.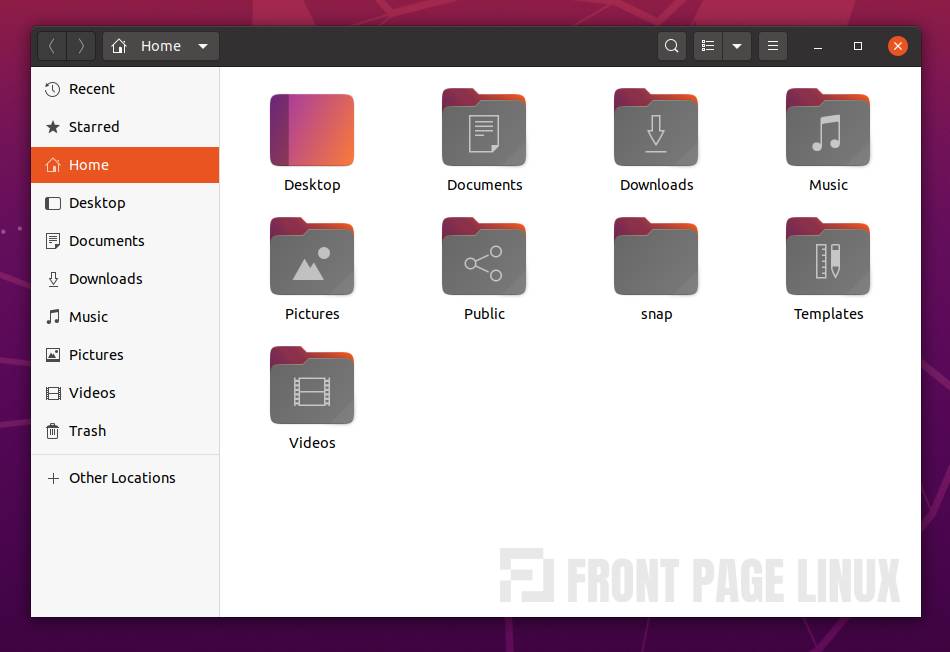 Let's continue on with the overall polish as Ubuntu's community-based design team have made many improvements in this space. The design team has give the Yaru system theme a much more refined look and feel. Taking a look at the new folder icons, they have changed from Ubuntu's traditional orange color to a grey coloring and an interesting inner gradient: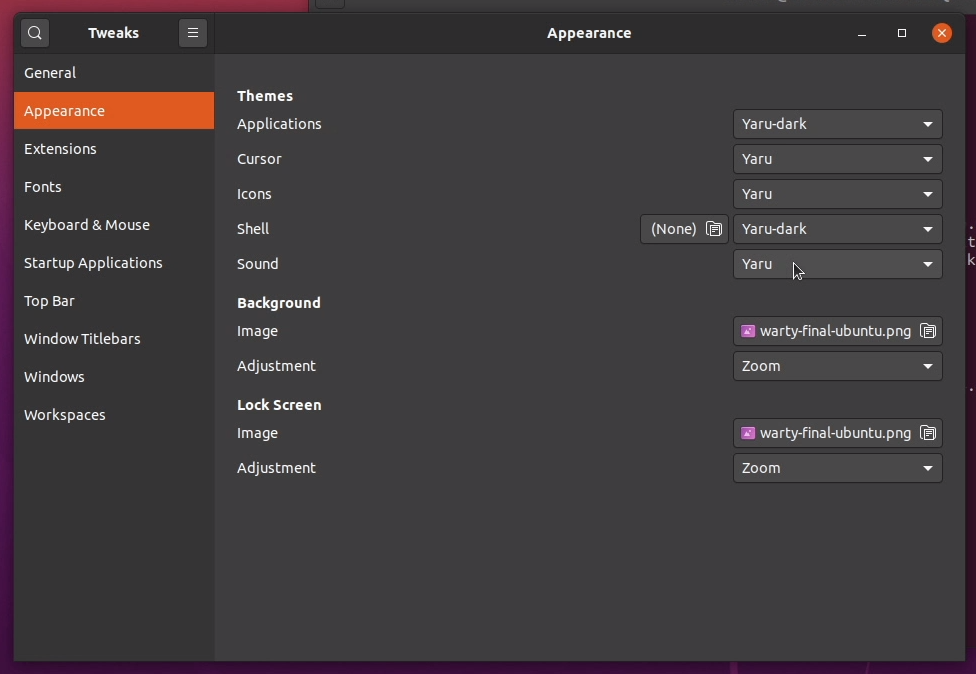 For those who prefer their systems to be more on the darker side of the force, the community Design Team has added a new Dark Mode setting in Ubuntu 20.04. You can turn on the new Dark Mode setting by going to the Settings > Appearance section, and selecting it from the dialog at the top.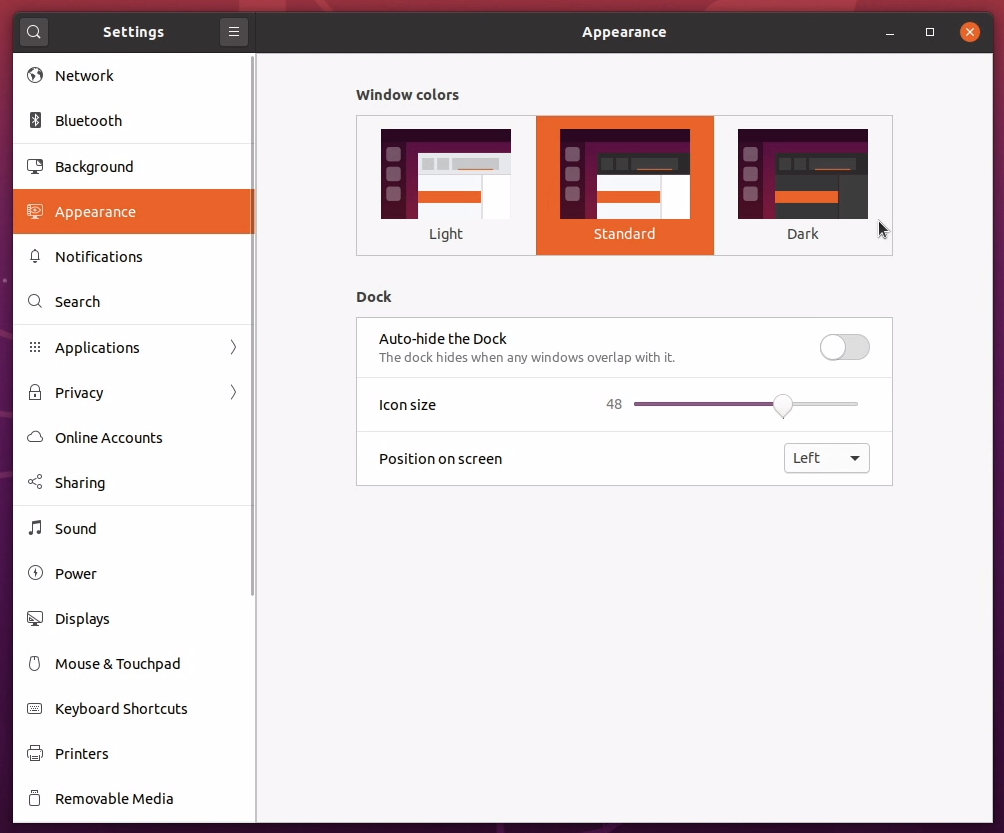 If you'd like more detail on using the Dark Mode then check out Eric Adams' "Ubuntu 20.04 Full Dark Mode Guide" here on Front Page Linux.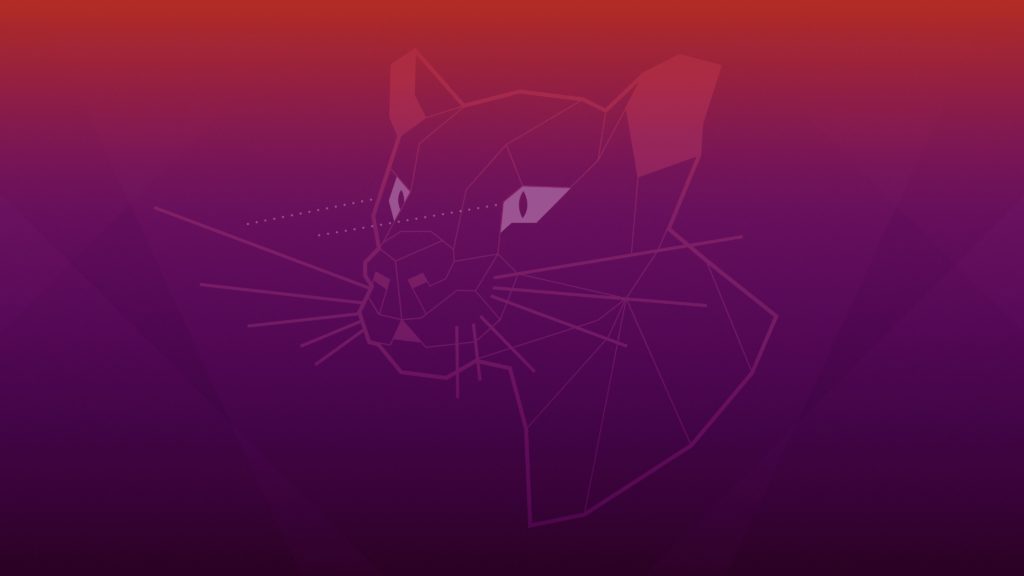 While not necessarily a feature, I did want to briefly mention the new default wallpaper because it's a nice illustration of a Fossa and I like the nice touch of the laser-like lines coming from the eyes which I believe to be representing the Focal portion of the codename.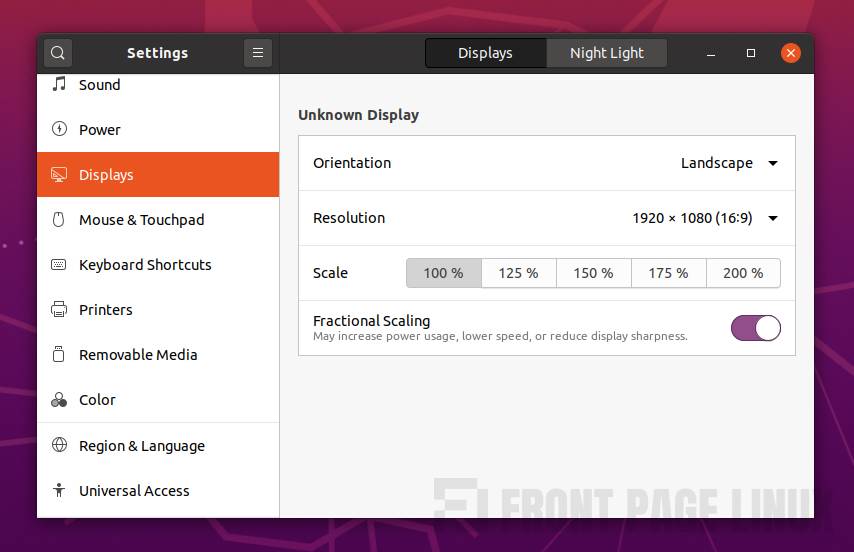 Ubuntu 20.04 also makes it easier to turn on Fractional Scaling support in which has been very important to a lot of people due to having High Resolution displays. You can now toggle on/off the Fractional Scaling in the Display settings panel making it simple to incrementally scale UI elements. Fractional Scaling options include 100%, 125%, 150%, 175%, & 200% to choose from. It's not as robust as some other desktop environments in the Linux ecosystem but it is a very welcomed improvement for Ubuntu users.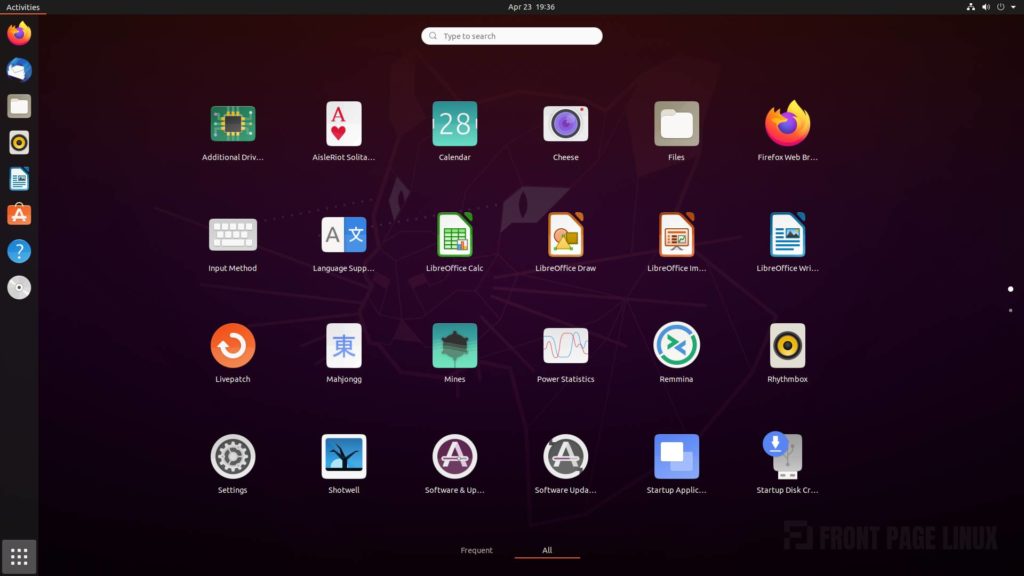 In addition to all of the features and improvements I've listed above, all of the guh-oodies offered up in the recent GNOME 3.36 release are present in 20.04. These features include but are not limited to: the new 'do not disturb' toggle; an option for 'suspend' in the Status Menu; and improved handling of App Folders in the Applications portion of the Overview.
GNOME 3.36 also brought many major performance improvements to the GNOME Shell and in Mutter, the window manager for GNOME. GNOME 3.36 also introduced improved UI animations and a more fluid feel for window management as well as being lighter on memory from previous versions of GNOME and a being a bit more friendly to your CPU cycles.
How To Download Ubuntu 20.04
If you are interested in the latest release of Ubuntu 20.04 LTS (Focal Fossa) and want to download it then you can do so right now, download from official Ubuntu website.
If you are currently using Ubuntu 19.10 (Eoan Ermine) then you can simply wait for the Upgrade window/message to appear that will automatically guide you through the upgrade process.
Ubuntu 18.04 users should probably wait until the first point release of 20.04 that will be coming out in a few months in July but if you can't wait then stay tuned to Front Page Linux as a tutorial for the impatient will be coming out shortly.