Whenever a discussion arises about the most aesthetically pleasing desktop for Linux, the Deepin Desktop Environment (DDE) is almost always at the head of the pack. The amount of detail and polish that the folks over at the Chinese-based Deepin Technology supply to the Qt-based "face" of their operation cannot be denied–with an air of macOS, GNOME 3, and KDE's Plasma–DDE has a little something for everyone.
However, another intriguing aspect that I've come to notice is that many in the Linux community only know Deepin as a desktop environment, instead of a standalone Debian-based distribution. This may be due to the fact that the desktop environment is the biggest highlight found in Deepin and became well-known through other distributions that support DDE-specific flavors like Manjaro, Endeavour OS, and, more recently, Ubuntu via the new UbuntuDDE Remix project.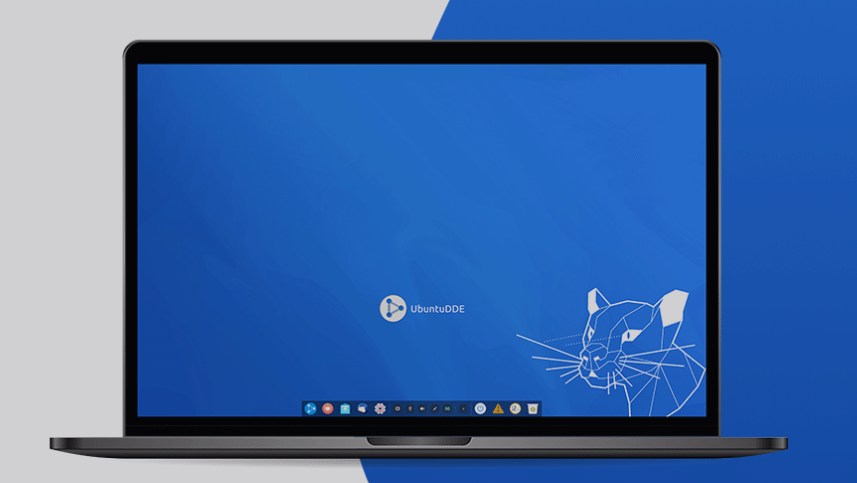 Another aspect of the Deepin distribution is that of the custom applications written for it, in a similar vein to elementary OS' work on its AppCenter applications. Deepin provides many custom applications, written specifically to work and look native to the distribution, to its users–from a full-blown music player to its own font installer–the distribution has you covered.
Of course, since it is Debian-based, there is additional access to software through the APT repositories as well as the universal app format, AppImage. It appears that Flatpak and Snaps are not available out of the box, but can definitely be easily enabled just as with most other Debian-based distributions.
Back in April, I wrote about the beta release of the newest version of Deepin, Deepin 20, which included a significant amount of rework over the five years since Deepin 15 was released. Well, after several months of intense testing and continued development effort, along with the unavoidable effect of the worldwide pandemic, I'm excited to announce the completion and launch of the first official version of Deepin 20 this past week!
With Deepin 20 comes a whole slew of improvements over its predecessor, but the most noticeable changes are featured front and center in DDE via a massive and comprehensive rewrite of the fantastic looking desktop environment. The primary objective behind rewriting DDE included creating a unified design style for the desktop elements and homegrown application ecosystem as well as making the desktop more intuitive and easier to use for those who are new to the Linux desktop. The rewrite also brought with it many performance improvements, the inclusion of some more advanced configuration features, as well as an entirely new dock/application launching system.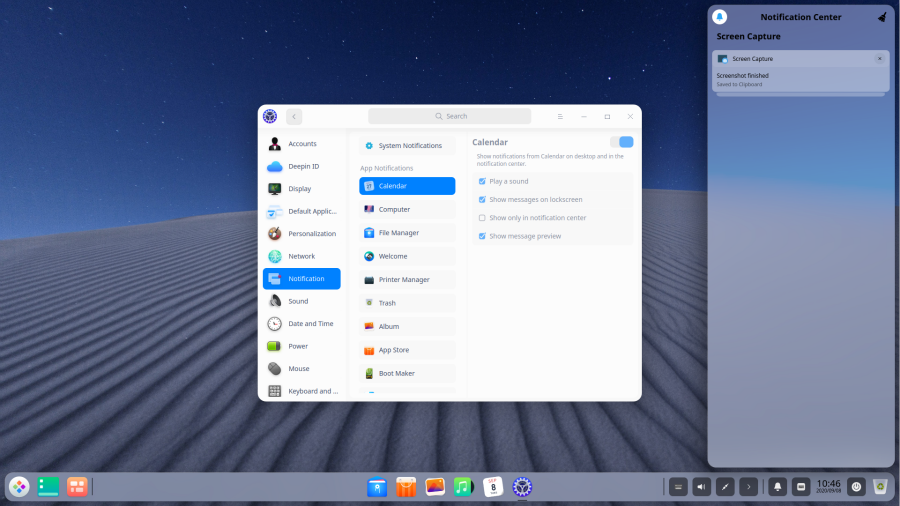 Now, I would be remiss not to mention the likeness to another operating system with a major UI overhaul–mac OS Big Sur. It really is uncanny just how much the two systems look (and act) like each other, but that's a discussion for another day!
One area that Deepin appears to be focusing on is the ever-growing importance of desktop notifications (and what the heck to do with them). Deepin has resolved this issue by building a notifications menu that pops out from the right side of the desktop–similar to the Raven menu in Budgie–that will hold all notification information. In addition, fine-grained control is given to the user through the system settings on deciding which notifications are allowed to make a sound, show up in the new panel, and even appear on the desktop's lock screen.
In addition, applications are now allowed to be assigned to different "reminding levels", which means you can set each application to show every notification available, no notifications at all, and somewhere in the middle of the two extremes.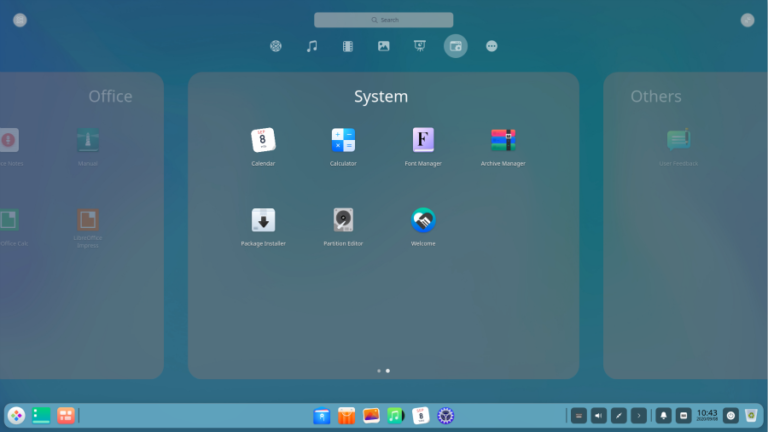 Another major talking point for Deepin 20 is the ability to have a dual kernel installation. From the official release notes:
"The system installation interface has dual-kernel options–Kernel 5.4 (LTS) and Kernel 5.7 (Stable) and their 'Safe Graphics' modes, bringing more options for system installation, and improving overall stability and compatibility, as the latest kernel supports more hardware devices."
This is definitely a major plus in my opinion as better hardware compatibility is a huge draw to systems that use newer kernels, which usually amounts to rolling or semi-rolling release distributions. We have seen a few Debian-based distributions, like Ubuntu and MX Linux attempt to create hardware enablement stacks, allowing users with newer hardware to reap the benefits of a much updated kernel. Having the options of the LTS or Stable kernel series is a huge benefit!
In addition to the major UI makeover that Deepin received with version 20, the installer also sports quite a bit of shine as well. In fact, the new installer might just be the easiest, most intuitive, and best looking installer out there for Linux, period. While trying the distribution out in a VM, I'm not sure I've ever gone quite as fast from introductory screen to rebooting in such a short amount of time. Of course, this is due to the fact that Deepin has moved certain parts of the installation process, like setting up a user account and password, to be done upon first boot of a freshly installed system. Still, it definitely seems a nice touch and the installer itself is an amazing looking piece of software.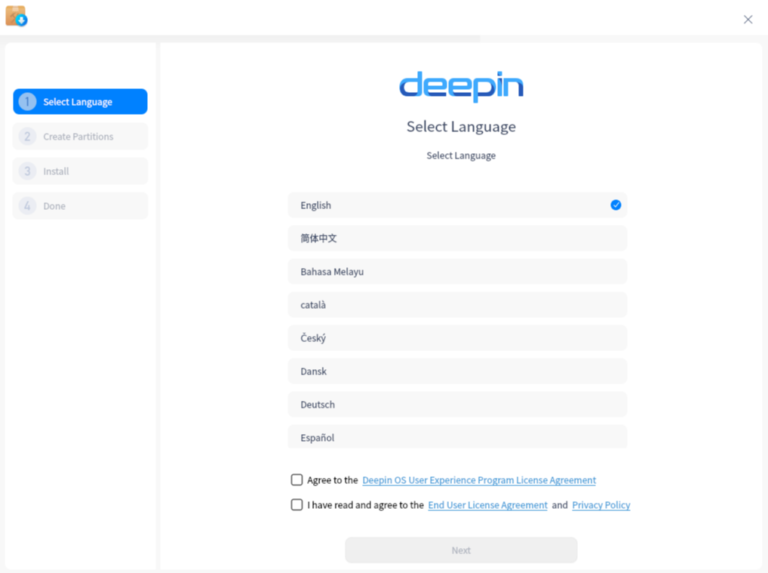 Another area that the team behind Deepin worked on for the new release is one that is becoming more important day by day–fingerprint reading. Due to the massive improvements we've seen with Linux's fingerprint drivers, Deepin has made sure to include these advancements for those who wish to access their computer through a fingerprint system. A new fingerprint can be scanned and added to a user account through the system settings application under Accounts.
Though the above areas were chosen as the major highlights of Deepin 20, there were a massive amount of bug fixes, system and software upgrades, and other new features including an updated icon theme, several brand new Deepin-specific applications (Device Manager, Font Manager, Draw, Log Viewer, Voice Notes, Screen Capture, User Feedback), an application update feature added to the App Store, the addition of proprietary NVIDIA driver blobs, improved support for wireless cards and Bluetooth, better scaling with HiDPI screens, improved wallpaper slideshow capabilities, system wakeup fixes, and the ability for full-disk encryption in the installer.
All in all, I have to say that I'm pretty impressed with the work that the Deepin developers have put into the new release. It definitely retains the title as one of the most polished and best out-of-the-box looking distributions and it is clear that a ton of work went into making the system design as consistent as possible. I can't speak much to the usability quite yet, I wasn't a huge fan of Deepin 15 and have only started playing around with the new system in a VM this past week. However, so far so good. The only issue I've been experiencing is slow download and update times, which is likely due to the placement of mirrors on the opposite side of the globe.
I'd like to give a huge congratulations to the Deepin team for an excellent job on their new release. It is really exciting to see a Linux distribution with the kind of polished out-of-the-box experience that people come to expect from the proprietary operating systems. It is obvious that the developers have put in a ton of work to make the experience as pleasant, intuitive, and consistent as possible, which is a major plus for the Linux community as a whole. I definitely look forward to playing around with Deepin 20 much more in the future!
If you would like to read the official release notes from Deepin, you can find them here. In addition, if you would like to test out Deepin 20 for yourself, you can find the ISO image download here. If you would like to keep up to date with the news surrounding Deepin, you can follow them on Twitter, Facebook, their dedicated forum, and their official news blog.
This is an excerpt from Linux++ Issue 24. You can read the full issue here.